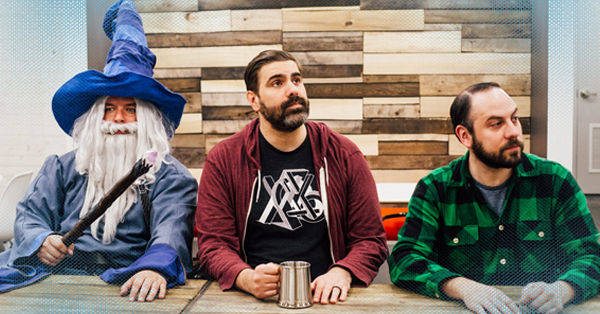 Matt Young, Arnie Niekamp, and Adal Rifai (Photo: Danielle Scruggs)
There are relatively few weekly podcasts that beg to be listened to in sequential order, especially after producing some 120 episodes, but Hello From The Magic Tavern is firmly in that exclusive club. Now in its third year running, Earwolf's entirely improvised meta-contextual fantasy comedy earns a spot in that club not just for its high concept but the even more interesting central rule at the heart of it: that everything spoken on the show immediately becomes part of the its canon. In doing so, each successive episode continues to build the world of the show, often bearing fruit in surprising and hilarious ways down the line.
If you aren't already familiar with Magic Tavern, here's the basics: Chicago comedian and podcaster Arnie Niekamp one day falls through a transdimensional portal behind a Burger King, ending up in a Narnia-like realm of adventure called Foon. While trapped in the rift Niekamp sets up an interview show at the show's titular tavern, The Vermillion Minotaur, chatting with all manner of magical creatures every week. Niekamp is joined each week by regular co-hosts Chunt, a pun-obsessed shapeshifter usually in the form of a badger (played by Adal Rifai) and Usidore, a shambolic and blustery old wizard (played by Matt Young).
Over the course of their run, the gang have been visited by a host of estimable guest stars including Wait Wait…Don't Tell Me! host Peter Sagal, wrestler Colt Cabana, actress Felicia Day, authors Cory Doctorow and Patrick Rothfuss, as well as many more.
I recently had a chance to catch up with Arnie, Adal, and Matt to discuss their favorite episodes of the show and it was a blast. Whether you're longtime listener or you're just now thinking about getting started on the show, there is a lot to enjoy within.